THE ROYAL OAKIE STORY — Inspired by counterculture, a song about a Monterey County park, great music, great record labels...
The label making one uniquely captivating album after another
When David Glasebrook started Royal Oakie Records in 2012, he simply wanted to release his band's music and help his friends get their music out there too. That was 'the plan.' Back then he didn't know that the label would go on to epitomize the new sound and vibe of the West Coast and develop a cult following around the world. Living in Santa Cruz, California at the time, Glasebrook was inspired by the Louie And The Lovers song Royal Oakie, produced by Doug Sahm (a big inspiration for Glasebrook) and named after a park situated 25 miles from Santa Cruz and not far from Salinas, Royal Oaks Park, full of majestic oak trees. And so Royal Oakie Records was born, a producer-led label with its goal set to emphasizing creativity, community, and also good times. A move north to Oakland, CA two years later would bring the label to its long-time home in San Francisco's East Bay...
"My grandfather was a jazz pianist and my uncle a jazz saxophone player. That was kinda my entrance into music. I went from singing in choirs to being deeply immersed in the underground DIY music scene, producing albums and releasing limited edition CDs. I spent a lot of time hanging out in recording studios, and was fortunate to have mentors that taught me about writing, producing, and releasing music," says David Glasebrook.
"At the beginning of the label story, the place is Central California. Big Sur, Santa Cruz, Monterey, the palpable presence of the original counterculture, the sunshine, the cannabis, meadows dotted with Oak trees, towering ancient Redwoods, the continuing counterculture arts and politics in Santa Cruz. The Pacific Ocean, Monterey Bay, the surf and the salty breeze."
"Louie and the Lovers are legends on California's central coast. Their 1970 album Rise is a lost gem. And it has the song Royal Oakie on it. I found a copy at a used bookstore in Santa Cruz and fell in love with the heartfelt songwriting, home grown feel, and authentic California spirit. Doug Sahm as producer added to the mystique. I did a lot of DJ-ing and that album was right up my alley," adds Glasebrook.
"Santa Cruz is a magical college town on California's central coast. Royal Oakie has a lot of links to Santa Cruz. There's an underground connection between Oakland and Santa Cruz. Many arts and music people migrate up to Oakland after graduating. Oakland, of course, has a very rich culture scene of its own, that stands in contrast to and complements the Santa Cruz scene. They're connected. We have strong links to both."
A musician from his early days, and by now an emerging record producer, Glasebrook pulled from his background, steeped in the DIY music world, and devoted his energy and his skills to crafting evocative and exciting releases. Glasebrook always aims to capture the essence of what makes a musical artist unique, while pushing boundaries and expanding their sound. Often working closely with the artists in the studio as either a producer, mixer, mastering engineer, or musician, or a combination of those, he believes in the hands-on approach to making high quality music.
Early Royal Oakie releases from Deep Ellum, Sparrows Gate, and Whiskerman established much of the label's extended family. It was with Sugar Candy Mountain, a then unknown band from Oakland, that Royal Oakie had its first great success. Releasing their second album Mystic Hits, the label helped the band reach an audience and develop an international following. The succeeding years saw Glasebrook's label build on that success with releases from China, Oliver Ray, Zeb Zaitz, and more.
During the pandemic, Royal Oakie focused on albums which experimented with building on its roots in West Coast psych, surf, and folk, with releases from Sandy's, Pacific Range, Scott Ballew, and Evan Myall. Initially known to some for its psych rock and to others for its indie folk, Royal Oakie has defied expectations by creating its own signature style rooted not in any one specific sound, but in artistic integrity and evocative music making. Its music may conjure with the warm laid back spirit of the 1970s, the indie integrity of American DIY, or the buzz of today's rootsy indie rock, in some wonderful mixture or another, and evoke the ethos and adventurous spirit of other producer-led labels such as Atlantic, Blue Note, Dischord, ECM, Shelter, and American Recordings, for example.
Royal Oakie is proud to celebrate its 10th Anniversary this year with an all-day Royal Oakie 10th Anniversary Festival, at The Balboa Theater, San Francisco, and the very special 10th Anniversary compilation that draws together greatest hits, lost gems, and sleeper classics from the back catalog, as well as a taste of upcoming releases that broaden its music family tree and reach out to new corners of the map. These days Royal Oakie's sense of community extends beyond its locality, with its roster including artists from Brooklyn, NY to Austin, TX to Los Angeles, CA. Now partnering with Cargo Records UK for distribution, the label is excited to bring its unique sound and vibe to a larger audience worldwide.
As David Glasebrook says,
"Royal Oakie will do it the same way it always has done, one uniquely captivating album at a time."
Royal Oakie 10th Anniversary Festival @ The Balboa Theater and the 10th Anniversary Compilation...
For the latest and upcoming release news and sounds click here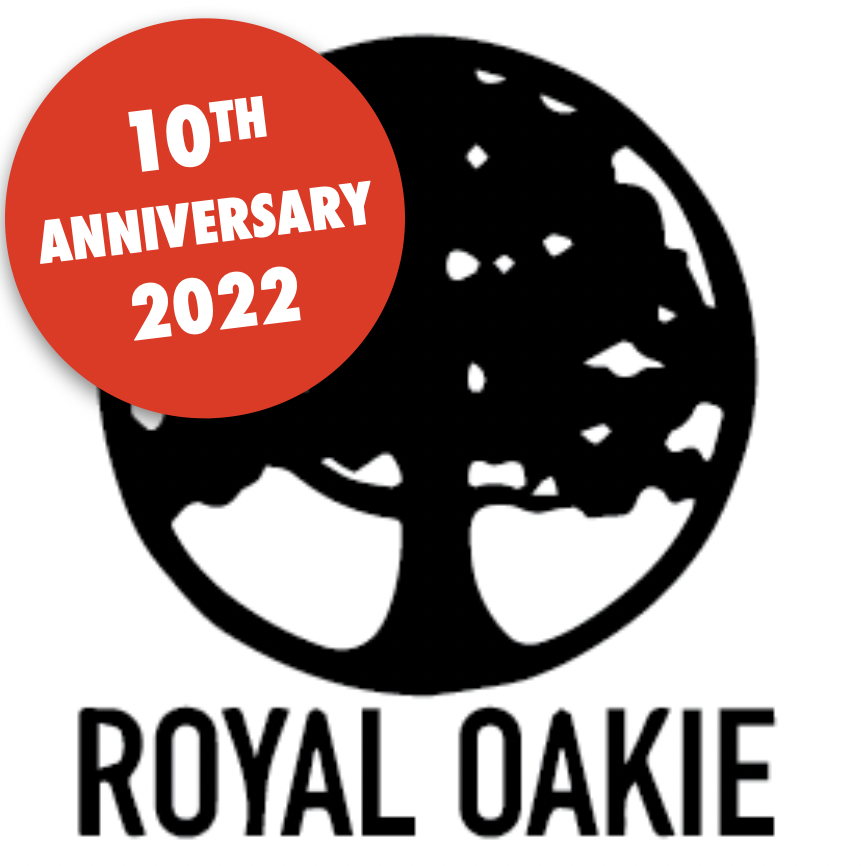 And for further information and guest tickets contact us...

Mal Smith & Chris Carr Delta PR