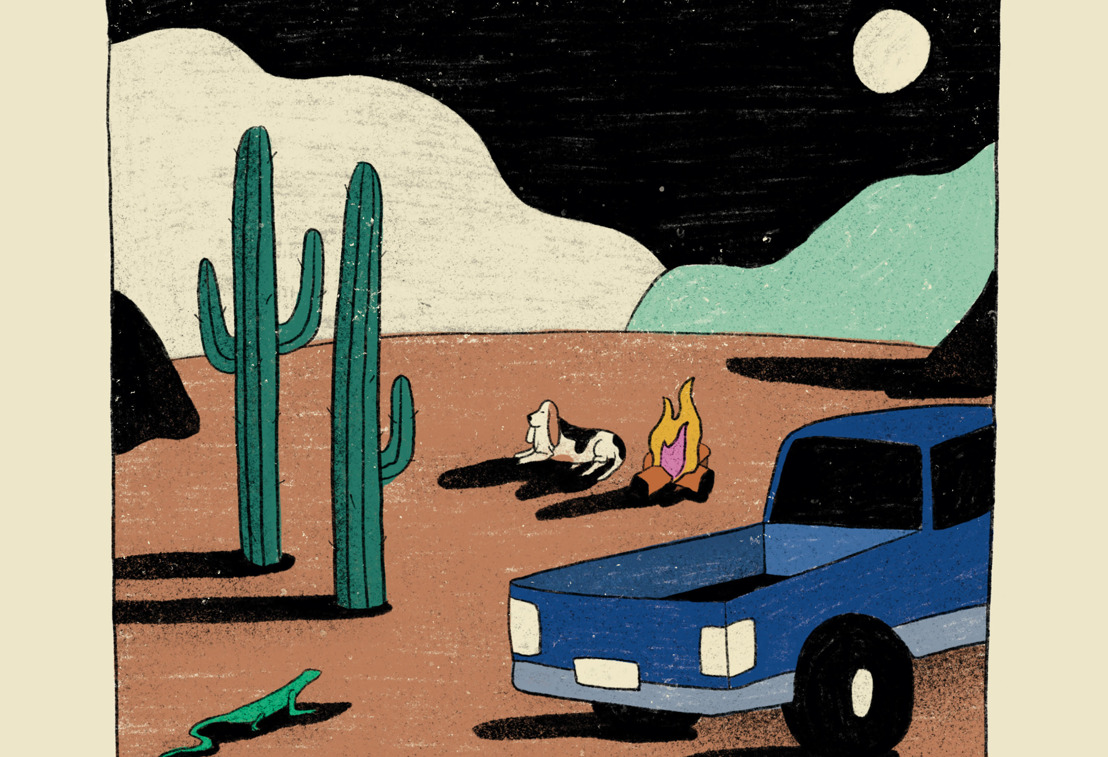 HALF STACK - Sitting Pretty
Half Stack's work thrums with an expansive Western energy, the perfect soundtrack to a drive down a wide-open desert highway. Singer / guitarist Peter Kegler was raised by a bluegrass musician father, who taught him the music from a young age and encouraged him to get involved with bands.
This became a lifelong passion for Kegler. "I've always kind of referred to it as country-influenced music," Kegler says. But while he and the rest of his bandmates have previously leaned into scrubby cowboy vibes to come up with their whiskey-soaked rock, here one senses whispers of Tiger Trap, Silver Jews, and The Grateful Dead in the band's music too.
Most of the original Half Stack met while Kegler and fellow members Digger Barrett (drums) and Marley Lix-Jones (vocals and guitar) were enrolled at UC Santa Cruz. They came up playing together in a tight-knit music scene - the famously bohemian vibe of their alma mater influenced their early work, possessed of a lo-fi, garage-inflected energy.
After graduation, Kegler, Barrett, and Lix-Jones independently ended up in Oakland with ambitions to make music. During this freewheeling era, Kegler and Barrett started working on some country jams together. Kegler and Barrett eventually recruited Lix-Jones, Oliver Pinnell (vocals and guitar), and Callum Beals (bass) to flesh out the project, and the full Half Stack lineup was born, with the band finding communion in a shared love of folky music.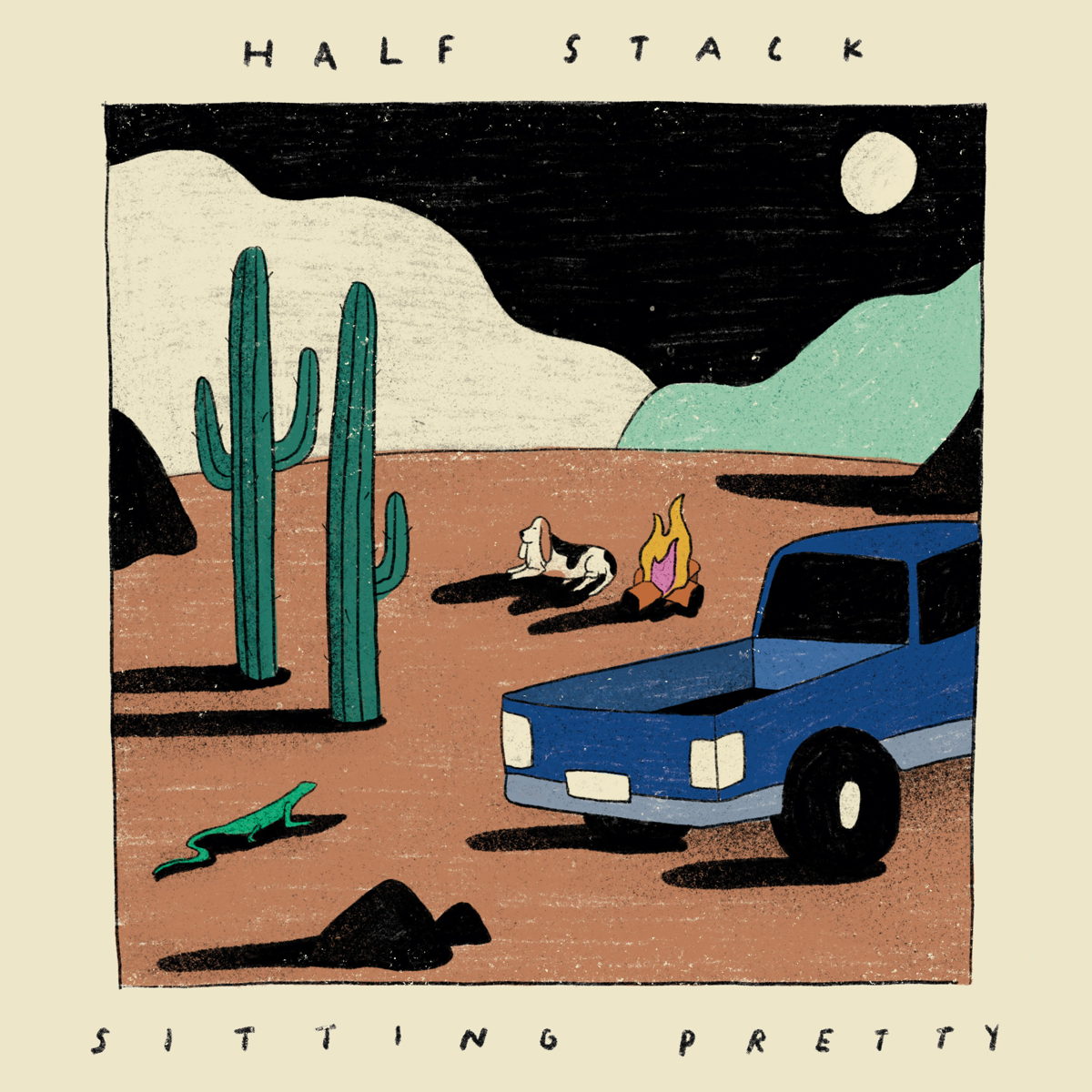 Their sound and attitude helped Half Stack cut through the static and they quickly began touring the West Coast in support of a self-titled 2017 EP and 2018's Jay Som produced Quitting Time. When Covid hit, the band's plans to play shows in Europe went down the drain. They put out the stellar Forged Artifacts released LP Wings Of Love (2020) with no way to promote it on the road.
During this period, Half Stack began working on their forthcoming album, Sitting Pretty. Heightening the bizarre circumstances, Kegler developed most of his contributions to the record while recovering from surgery. The band tracked the album with Mac Demarco-collaborator Joe Santarpia, who engineered the sessions at his studio in San Francisco's Mission District. The end result finds Half Stack dialling down the earthy outlaw energy, replacing it with a new sound where their songwriting shines through with added optimism.
Kegler took the songwriting lead on previous Half Stack records, but this time around he passed the mic to Lix-Jones for a number of tracks. The impact of her songwriting is felt across the track-list, and is especially gripping on swaggering "New Light" and "TOTM3". Album opener "I Might Try" evokes the navy hue of the Pacific Ocean, with its vocal melodies, soaring guitar, and hooks that keep circling back around; "Burnt" flirts with honky tonk and "Sweet Jane" style talk-singing; and "Diamond Dancer'' lands in the psych camp, with cryptic hooks and intricate guitar harmonies. The diverse track-list cements this album's place as Half Stack's most wonderfully unpredictable and ambitious outing to date.
Marley Lix-Jones on the single "I Might Try":
"During the process of writing and recording this album, the band was spread out across the country. I wrote the guitar parts of this song alone in my apartment during covid and I wrote and recorded the vocals a year later alone in my bedroom in Boston. During all of that isolation and change, we were writing and recording these Half Stack songs. The album became a way of connecting me to my home and to my friends. I Might Try is a bit about that and a bit about love. It is a song about moving across the country and feeling unmoored without the people you love, about how being with people you care about makes every day a little nicer."
Single:
"I Might Try" due July 14th 2023
Album:
Artist: Half Stack

Album title: Sitting Pretty

Produced by: Peter Kegler

US/Canada release: October 6th 2023

UK/EU physical release: November 3rd 2023

Formats: Vinyl, CD, Cassette, Digital

This is a Royal Oakie / Forged Artifacts co-release
For more information please contact...

Mal Smith & Chris Carr Delta PR