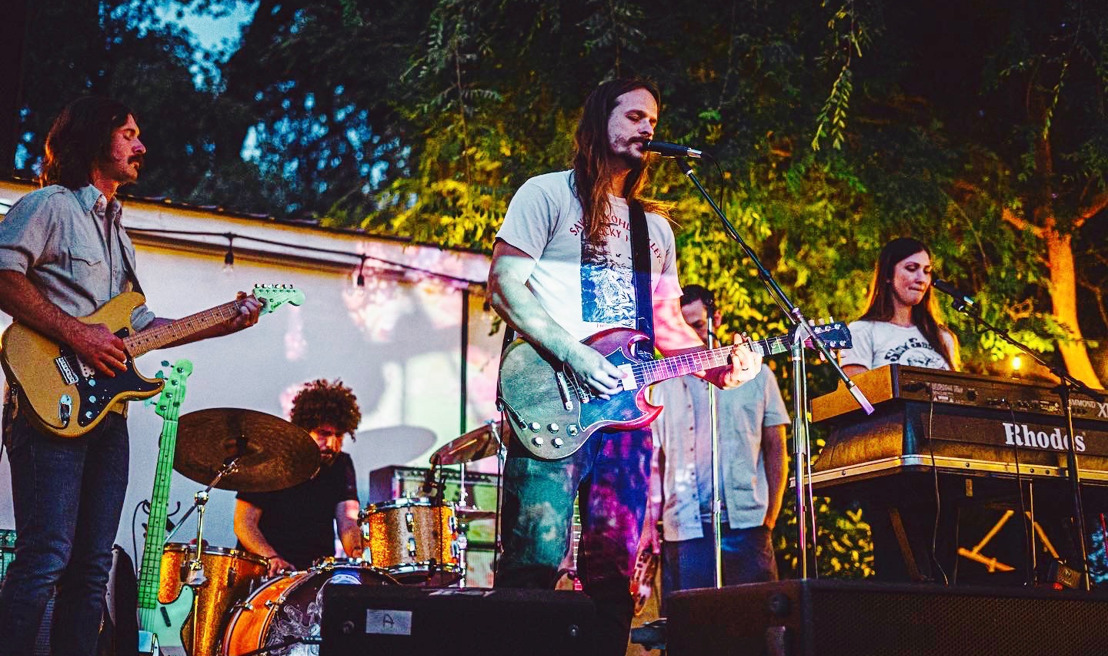 BRIM — California Gold
Revealing track notes, video...
From the heart of California comes gold. We can reveal that Brim has signed to Royal Oakie. Their debut album California Gold is just out now on digital. UK/Europe CD release due October 28th 2022.
Singer and songwriter Daniel Rice and bandmate Hayden Doyel originally formed Brim as a rootsy side project to their psychedelic hard-rock band Slow Season, latterly known as Westing. Shortly afterwards, Daniel's wife ReNelle Rice joined the fold, playing keys and enabling the three part harmonies.
Written and recorded in their hometown of Visalia, CA, the album is a paean to the dirt-road back streets and down-to-earth humanity of rural California's small towns and valleys...
Daniel Rice on the songs of California Gold (for more information see here):
California Gold
"About growing up in the agrarian and natural beauty of the Central Valley. Name drops Huell Howser because his TV program California's Gold celebrated the simple, everyday things here in this state.
In A Smile
A fun, goofy song about the way things seem and the way they really are. Girls, dogs, and politicians in one song. We did it.
Mudpie Kings
An appreciation for the mundane can be a virtue, but there is also a tension present, as there is with the danger of 'slumming it' as a lifestyle, in simply taking what life gives you rather than believing that there is something richer than a default existence. I see folks all over undervaluing and neglecting their education, health, and a variety of other vital things. Coming out from under the 'little brother' mentality of small-town USA and claiming a better life is addressed here in "Mudpie Kings".
Oleander
Seeing as California has been subject to much public criticism and a recent population exodus, the track "Oleander" has taken on even more layers of significance.
Nothing Gold
Remember when you first picked up a guitar with one of your buddies and you formed a band? Do you recall the dreams you confided to one another, the camaraderie and vows of undying loyalty? I'm trying to get back to that place again, even if 'nothing gold' can stay.
When the Evening Comes
The kind of life I want to live.
There's More to This World
Discusses the wisdom of leaving glossy 'good' things for humble 'better' things. Quitting something you've poured yourself into and gained identity from is hard. Sticking with it might be worse. A wise man once had some words about holding or folding the hand that you're dealt…
Won't Do It Again
When you quit old habits, those old habits better get replaced by something else with true life-giving value, or they will be back again with a vengeance. "Won't Do it Again" is a story of relapse and renewal for those experiencing the varying degrees of dependency.
Shadowland
To use a buzzword of the pandemic era, there's lots of trauma getting covered up by our dependencies and psychological jiujitsu moves. "Shadowland" confronts a huge loss my wife and I experienced together a few years back. This song could be about any kind of loss you may experience, but I'm really glad that the experience of miscarriage is finally something we are talking about publicly."
---
For pics, credits, and more on the album...
US/Canada: Brim - California Gold - May 20th 2022 - CD, Cassette, Digital
UK/Europe: Brim - California Gold - May 20th 2022 - Digital only
UK/Europe: Brim - California Gold - CD release due October 28th 2022

US Tour Dates - TBA

Bandcamp https://brimband.bandcamp.com
For further information...

Mal Smith & Chris Carr Delta PR